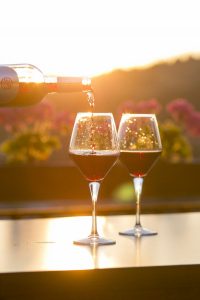 This week's sermon was based on the Wedding of Cana as conveyed in John 2:1-11.  This story describes Jesus' first miracle and for years I have spoken on this passage but on this occasion I focused on the bride and groom of this wedding.  All we know about the couple was that they ran out of wine, a very important element in a wedding.  In fact, I came across while  preparing for this sermon that a Jewish wedding at that time were celebrated seven days!  So running out of stuff was common especially wine.  Therefore, wine was kind of spread throughout the week by diluting it as the days went by.  In other words, the wine was good at the beginning of the week but the the seventh day the wine was very diluted; however, by then most of the guest had gone home.
So getting back to our story, scripture conveys that the wine had finished by the third day thus this indicated that whoever was diluting the wine was not doing a very good job or the many folks had decided to crash the wedding.  Whatever the reason a need developed that the couple was not able to supply, but among the invitees there was one that would supply their need. It is interesting that what happened in this wedding happens throughout our lives; needs develop no matter how well we plan and at times we have no one to supply the need. John tells us that Mary conveys the need to Jesus, and the the first miracle is born: Jesus defies the conservation of matter and turn water into wine.  In other words, H2O to C2H5OH- a chemical transformation.
Finally, what can we take away from this wedding story? That we should consider a wedding planner when planning a celebration? I would recommended it; it wouldn't hurt and if something ends up coming short you can always blame the planner.  A more direct interpretation would suggest that we should go to Jesus when we have a need? Yes, Jesus is all powerful and can certainly provide all of our needs according to riches in glory.  However, I suggest that we take the position of Jesus in the story as providers, suppliers- hey miracle workers.  Let us  look around our neighborhoods for the needy and supply their needs with what God has provided us with. Suggestions: time, money, talents. etc.  Please comment… what are other ways we can "supply the wine" that is needed so that the "wedding of life" can go on in peoples' lives.